The weather in Passeiertal and South Tyrol!
Today: In the South quite sunny, in the North changeable conditions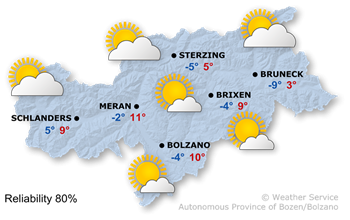 Sunny weather towards the South with some harmless clouds. Cloudy in the northern parts of the region with Föhn winds. In the afternoon from 3° in Toblach and 11° in Meran.
---
Tomorrow: Snow in the North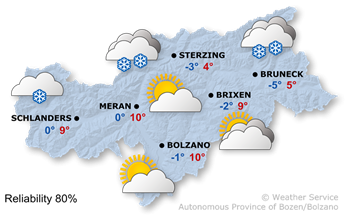 Snow on the main Alpine crest with focus on the Ahrntal mountains. In the evening, the precipitation may spread a little further to the South, for example to the Pustertal valley. Elsewhere it will remain dry with Föhn winds in the North. Maximum temperatures between 5° and 10°.
---
Next days Weather forecasts: More snow in the North
On Friday weather improvement, residual snowfall in the North. Quite sunny in the South. Still windy. In the night to Saturday until Saturday morning new precipitation in the North of South Tirol, snow line at 1000-1200 m. During the day snowfall will retreat to the main Alpine ridge and become weaker. In the South mostly dry and sunny at times. Strong North winds. On Sunday precipitations resuming in the north during the day, partly sunny in the South. Monday slightly changeable weather in the North and sunshine in the South.