The weather in Passeiertal and South Tyrol!
Today: Partly sunny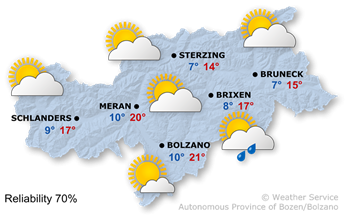 At first some low clouds, then sunny weather. In the afternoon/evening some rain showers. High temperatures between 12° and 21°.
---
Next days Weather forecasts: Changeable conditions
Tuesday morning cold front with rain, afternoon weather improvement. Wednesday more sunshine, in the afternoon isolated rain showers. Thursday more clouds, in the afternoon and evening rain showers. Friday weather improvement.